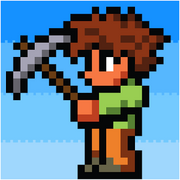 The mobile version of Terraria is developed by Codeglue and published by 505GAMES (Spike Chunsoft in Japan). It is available on iOS, Android, Fire OS and Windows Phone/Windows 10 mobile devices.
When opening the game, Re-logic, 505games, Codeglue and RakNet are credited.
Availability
Versions
iOS - 1.2.12785
Android (full) - 

1.2.

12785
Android (trial) - 

1.2.

12785
Fire OS (Amazon) - 1.2.12801
Windows Phone - 1.2.4.3
Exclusive content
Other links
Notes
The Android/Amazon versions require Android 2.3 or above.
The Windows Phone/Windows 10 mobile version only works with Windows Phone 8, 8.1 and Windows 10 mobile.
The trial version on Android can be unlocked via IAP.
Trivia
A demo locked on the Tutorial world is available on Google Play. It is up-to-date and progress can't be saved,
The full paid version is called Terraria. rather than Terraria (extra dot (.) present in the title).
The 3DS version of Terraria was forked from the mobile version.